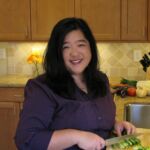 Sharon —  AAPI Food Allergy Mom, Advocate, and Author
My younger son was first diagnosed with food allergies in 2006 and my older son was diagnosed later in 2012. During those early years our family had food allergies to peanuts, tree nuts, egg, shellfish, sesame, numerous fruits and vegetables, as well as environmental allergies, eczema, and asthma. It was a challenging but manageable time because our home is a relatively controlled environment. 
Even though our extended family is supportive about our children's food allergies, I lack the fluency and vocabulary to communicate effectively with some of our mostly Chinese speaking relatives about "anaphylaxis," reading food ingredient labels, preventing cross-contact, knowing when and how to use epi, etc…
I felt that our children missed out on their grandparents' homestyle dishes which is why I make nut-free and allergy aware versions of traditional Chinese dishes so that we can eat together. My children asked me to compile these favorite recipes in the form of a cookbook so they could cook for themselves when they leave for college. 
I recorded my recipes and later shared them on my blog, Nut Free Wok, when I realized that others were interested in allergy aware Asian fare too. I finally wrote a cookbook, the Chinese Instant Pot Cookbook was published earlier this year and you can find free recipes from the cookbook for Soy Braised Duck Legs or Lu Rao Fan, and pair that with a bok choy veggie side.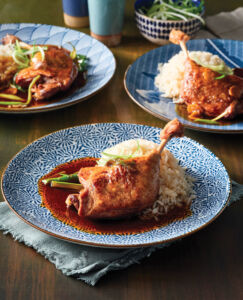 The cookbook includes recipes from a variety of Chinese cuisines, many of which are inspired by my family, dining out, and travels. As I wrote the cookbook, I thought about what my grandparents and dad would think of the Instant Pot compared to a traditional wok. 
My parents' and grandparents' courage and resilience to move to the United States inspire me to adapt and be resilient in my everyday life as an AAPI food allergy mom and advocate. It's such a privilege to share our AAPI heritage through stories and recipes and to show how do-able it is to adapt traditional Chinese recipes for food allergies and pressure cooking.
Jenny's Food Allergy Journey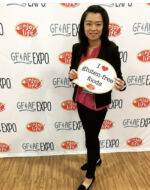 Some of you might know Jenny Lee who blogs at Clean Eating Gluten Free Foodie and I asked her to share a little bit of what it's like to be an AAPI food allergy mom. Read about how even though they need to adapt their family's recipes for many food allergies, part of their tradition is to connect with the cultural and personal significance of the dishes. 
My name is Jenny Lee and I believe food allergies are the scenic routes on our food journey. I have four children, and they all have food allergies. Their allergies range from dairy, wheat, rye, soy, and sesame to other allergens, all of which are randomly assorted amongst them.
A common question I get asked is whether my children can eat Chinese food with many of the sauces containing soy or wheat. Yes, but it does take a bit of research and care, especially when we are eating out.
People are often surprised when I tell them that there are regions of China where traditionally there is little use of wheat or soy sauce. There are even dishes that are prepared with historical and cultural meaning.
It is with this in mind, that I decided to make eating a fun geographical and historical journey for my family. Such as making "white sugar cakes" (bai tang gao or bak tong gou), a popular dim sum dessert with origins to the Ming Dynasty. It is a rice-based dessert from the Guangdong region, which is known for early rice agriculture in China. My children would put a pin on the map for every dish we ate from that region. 
Even the simple "white fried rice" (bai chow fan or bak chow fan) that I make every Sunday tells the story of their grandparents in Shanghai. Grandpa says, they never put soy sauce on the rice because you won't be able to see the white pearls of the beautiful short-grain rice. Grandma gives another reason that the short-grain rice is stickier than your jasmine rice and the soy sauce makes it too wet. My daughters tend to side with grandpa because who doesn't like the idea of "pearls" in your bowl?
In our house, our food tells a story of our ancestors and where we come from. Food allergies to my children aren't about food restrictions but about exploring their heritage. We went beyond reading food labels and found a bit of our history.
Rochie Shares Stories For a Reason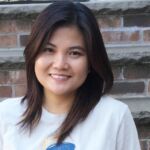 Rochie DeSagun and I connected many years ago as fellow food allergy moms and bloggers. Over the last few years, I have appreciated how much we have in common as AAPI mothers and it's through sharing our stories and experiences that we find empathy and camaraderie. You can find Rochie's blog at The Frugalista Mom. 
When my four kids were properly diagnosed with food allergies in 2012 and had to remove wheat, dairy, egg, soy, tree nuts, peanuts, shellfish and sesame from our daily family menu, I knew that it's going to be a rough journey. 
Food-wise, back then, it's rare to find packaged foods that were gluten free and food allergy friendly. Good thing, many Filipino recipes were traditionally allergy friendly — Chicken Tinola, Sinigang (boiled meat in tamarind broth), Chicken Curry, Puto (steamed rice cake) and Coconut-based Ice Cream. The catch? Everything has to be made from scratch. 
Eventually, our family was able to adjust to the "new diet." As the months passed, I realized that there's more to food allergies than food. There are so many psychological and emotional challenges too. 
In Asian culture in particular, parents often don't talk about their child's weaknesses and that includes medical conditions such as food allergies with other people. There are also some beliefs that kids with food allergies are weak, that moms are to blame for their child's food allergies, that food allergy is a rich man's disease, that food allergy isn't real, your child is just being picky, and the list goes on. 
That is why when I created my blog, I didn't just provide recipes and product reviews. Most importantly, I shared stories — my children's experiences and my thoughts as a mom. My goal is to empower both kids and parents to make the topics about food allergies and mental health normal. That it is okay to talk about our needs. 
Happy AAPI Heritage and Food Allergy Awareness Month!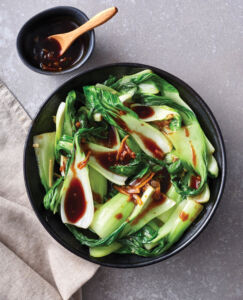 It's so perfect that we celebrate in May both Food Allergy Awareness and AAPI Heritage, as both intertwine together in our stories. Many thanks to Latitude for inviting us to share our stories to celebrate Food Allergy Awareness Month and AAPI Heritage Month with you. If this resonates with you, please share your stories with us or reach out directly to me, Jenny, or Rochie on our websites or social media.
Are you or someone you love impacted by a food allergy? Improve your quality of life and unlock a better future with Latitude Food Allergy Care. Latitude offers comprehensive food allergy care including diagnosis, treatment, and prevention, for babies, children, and adults. Contact us today to schedule a no-obligation conversation with one of our Patient Care Coordinators.
___________________________
Photographs from Chinese Instant Pot Cookbook by Sharon Wong, published by Rockridge Press. Copyright © 2022 by Callisto Media, Inc. All rights reserved.
Photograph of Jenny Lee provided by Jenny Lee. Photograph of Rochie DeSagun provided by Rochie DeSagun.