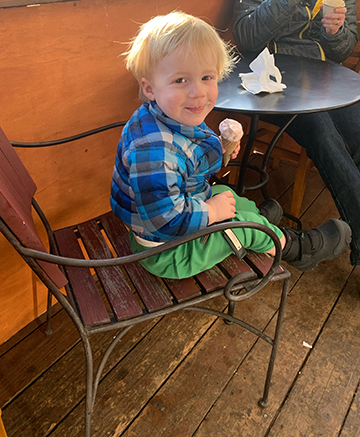 1. Why did you initially decide to come to Latitude?
As a hospital dietitian, I had the knowledge that food allergies were on the rise, but it never occurred to me that food allergies would impact my child. My son Cotten had a severe reaction when he was 6 months old to peanuts. His full body was swelling and his eyes were puffy. He had bad eczema as an infant. I realize now that eczema is a risk factor but didn't know it at the time.
I didn't want to introduce any more solid foods until Cotten received a skin test for food allergies. At Menlo Medical, we found out that he tested strongly positive for peanuts and eggs when he was 7.5 months, just about when he first started walking. Menlo Medical allergists recommended that Cotten be seen at Latitude and investigate options such as oral immunotherapy (OIT), the peanut patch and other options.
I reached out to Latitude when Cotten was 11 months old. As a mom who works full time (along with my husband who worked full time), I was concerned that this was too much of a commitment. But once I read more studies, I realized if I waited to pursue options like oral immunotherapy, that I might make a mistake.
We moved his day care schedule and did an earlier drop off and were able to dose him. I think Latitude's outreach was very helpful. I initially spent 45 minutes with my patient care coordinator, Debbie, to figure out whether we could make OIT work. Since Cotten is in a daycare center, there isn't as much individual attention and I didn't want to risk Cotten having a major reaction. This also highly motivated us to consider OIT.
During our time at Latitude, we've had a lot of success with Cotten. Latitude ran more blood tests giving us a better picture of his allergies. He also did a baked egg challenge. We decided that egg wasn't going to be part of his OIT since he passed his baked egg challenge and it wasn't as severe as his peanut allergy. Cotten ate the entire muffin which was a 1/3 egg in a four hour period.
Cotten ended up doing OIT for peanuts, and was able to progress to maintenance fairly quickly. We've been exploring how to hide peanuts in food. We've crushed it in various things and baked it as well. We even make peanut blondie bars. We've figured out the variety which makes it possible to pack more peanuts.
Current maintenance has been uneventful in a good way. Within six months into OIT, his eczema got meaningfully better. That made things more pleasant with less itching and the lightened load of not needing to be so vigilant with Cotten's skin. Maintenance has been pretty smooth for Cotten.
2. Please describe your impressions of the care team, the office, and overall experience.
Latitude is way beyond my expectations. Cotten loves nurse Liz and nurse practitioner Allison every time we go. For me, it is a personal break. I go to Latitude and have sparkling water and sit there for an hour. It's really, really nice as a breather in a low stress environment. Suzie, at the front desk, is extremely helpful. She has been very responsive from an insurance and reimbursement process. She was willing to get itemized receipts really quickly and helped us and go through the process quickly as possible.
3. What was the best part of your experience at Latitude?
The best part of our OIT experience is taking control of your child's issue. You're taking an active step to protect them. As opposed to abstinence for years which makes me nervous. The best part of Latitude is the staff. The office visits have been very warm and pleasant. My older son likes to join the visits to Latitude to play and eat snacks. Makes it more enjoyable for Cotton.
4. How has your experience (and or diagnosis or treatment) at Latitude impacted your family?
My husband and I travel a bit. We've taken a few trips away from the boys. We go on date nights and leave the boys with a babysitter that knows how to use an Epipen, but I don't think we could have done any of these things if my son was still abstaining from his allergens. We wouldn't feel comfortable for long periods of time if someone else were feeding them and watching them. If the data turns out to be predictive for us, my biggest regret would have been not desensitizing early.
5. Any other comments or feedback?
I preach OIT to a lot of my friends with food allergies. I realize it's a huge commitment. But I realize if we can do it with our full time work schedules, anyone can do it if they're motivated enough. I'm a great advocate.