Through Nicole's eyes: where Marco's food allergy journey began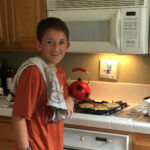 I remember the first real sign that Marco had food allergies. I was traveling quite a bit for work and had to give him formula for the first time. He had two quick sips from his bottle of milk-based formula and broke out in hives around his mouth. I remember calling the doctor who said not to worry, he was fine and to make sure to give him milk before his one year appointment. He reassured me and told me to come to him if anything happened. Regardless, I decided to pump and didn't feed him any more formula. Right before his one year appointment, I gave him a little milk in the hopes of hitting the pediatrician-recommended milestones. Unfortunately, it did not go as planned. He had ¼ cup of milk and in the time it took for me to turn around and hang up the phone, Marco went into anaphylaxis. We were lucky —  I handled the situation completely wrong, yet he ended up being ok. I didn't have any antihistamine or epinephrine on hand, so instead I did exactly what the doctor ordered and drove to the office with Marco struggling to breathe. After that experience, Marco was seen by an allergist and we found out that he was allergic to 16 different foods — the beginning of our food allergy journey. I needed a babysitter just so I could take the time to scour the aisles at Whole Foods to figure out what I would be able to feed him and the rest of our family. This was in the early 2000's so food allergies were not as well understood as they are today. 
I started to cook everything from scratch and we seemed to get into a rhythm with "safe" foods and companies that seemed to be reliable. As Marco got older, we began applying for preschools, but he never seemed to get in. I always included his food allergies on his application — I decided to leave that off the application for one preschool, to see if that was the challenge. Marco was accepted. I worked closely with that preschool to educate them about his allergies and helped create a safe environment for him and future food allergic students. Unfortunately, we did have challenges with some families that were not happy about the allergy-safe environment that the preschool had decided to undertake. It was a change to the routine for some, and families were not pleased with the request. I had to believe that it was ignorance that led the charge for this negativity. So, I was determined to get a deeper understanding of Marco's rights to education and I began to attend events at FAAN, now FARE, and FAACT. The relationships and information I gleaned from the conferences were extremely helpful and laid the groundwork for the rest of our family's food allergy experiences. I joined food allergy support groups and began to share my information on Facebook, expanding my relationships and knowledge through my networks with every person and their food allergy experiences. It felt like a special club where we could support one another, share recipes, help each other find specialty foods and bond over our experiences both good and bad.
Progress, but not without some setbacks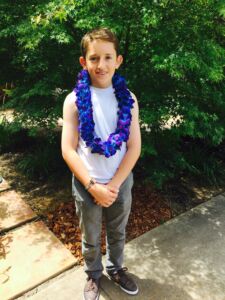 Marco was very social, and we never wanted him to be defined by his allergies. Like every parent, we wanted him to have as normal of a childhood as possible. We had him wear his epi-pens in a fanny-pack around his waist so they were easily accessible for anyone taking care of him, while giving him the freedom to roam and play. 
He started elementary school and I made sure to train the teachers who were in charge of his grade along with any other administration. I created resources for teachers as well as food allergy protocols to ensure not only Marco's safety, but the safety of other children as well. I knew that Marco might be the first food allergic child, but he would most certainly not be the last. I wanted to do more to help food allergy families, so I became a certified trainer through the PAL program. This increased my credibility beyond "just being a mom" and the schools in our area became more receptive to trainings, so I started working with entire administrations prior to the start of every school year. The schools were terrific and overall, Marco had a safe school experience. So much so that he and Mrs. Lely, the amazing woman at the front desk at his school (who was really his guardian angel) were featured in Allergic Living as she was his food allergy hero! 
While those who were in charge of Marco's experiences outside of the home were trained, it turned out that all of Marco's reactions actually happened either at home or with us. His scariest anaphylactic experience happened the summer before 8th grade. We had just returned from a trip where Marco had become accustomed to grabbing "quick food" with Quaker oatmeal. My husband had purchased the oatmeal "with protein," thinking that he was adding some nutritious components to his diet. Without checking, I had blended these packets with plain ones. This was where all of our systems failed. My husband and I both had forgotten to read the label stating that milk, one of Marco's allergens, was included. Then just before we both left one morning for work, Marco assumed that all of the packets were safe, made the oatmeal, ate it, and reacted. That experience changed Marco and our family life for years. He stopped eating and was anxious. We went to therapy and spent years trying to undo the damage that this episode had done to him and his confidence. Eventually, Marco went to a FARE conference and met others his age with similar allergies. The connection and camaraderie served as a turning point for him. He began to eat more. He started to sleep better. He then attended another conference at FAACT where he heard other teen's stories and how they navigated the challenges and anaphylaxis episodes. 
Shortly thereafter I met Julie Bitler at an allergy conference where I was helping FAACT. I shared Marco's story with her and the challenges that we were having getting him in for testing,  as we were hopeful that he may have outgrown all of his allergies. But I wasn't sure. And I was afraid to say it in case I was misreading the results.
Food challenges at Latitude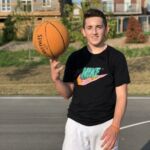 When I returned from the conference, I was eager to tell Marco that there may be a way to get him tested quickly. He was excited and a bit nervous to take on the oral food challenges, but he was hopeful that they would provide answers. 
As a traveling basketball player and a senior in high school, Marco couldn't afford to miss school or basketball, so he waited until after graduation to start his food challenges at Latitude. He took on the "easy" ones first — the ones that miraculously tested negative as he outgrew them. Marco returned to Latitude regularly, as quickly as he could, to test, and was passing his challenges at record speed. After 12 food challenges, we were relieved to learn that he had outgrown everything except his milk allergy. With that clarity, today, Marco tolerates baked milk and cooked milk, and his next step in the near future will be to try cheese pizza under clinical supervision.
What Marco and Nicole's lives look like today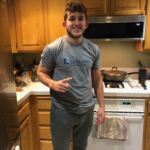 Marco's experience at Latitude has been nothing short of life changing. He is currently a student at Arizona State University (ASU) majoring in Nutrition and Physical Fitness. He hopes to help others live healthy lifestyles —  especially those who have food allergies. I used to worry about him going too far from home. What if he had a reaction, would his roommates be able to help him? Now, the peace of mind for me, our family and most importantly Marco, is a true gift. He is thriving.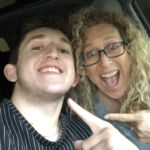 Marco's experiences have guided my own path as well —  I've embarked on a second career and am currently pursuing my Master's in Public Health (MPH) from Baylor University. And this year, I have had the opportunity to do my graduate project with Latitude. Their food allergy knowledge and unparalleled patient care is something that I admire and deeply appreciate. I have been inspired by my experiences with Marco and the other health issues my own children have endured and I can't wait to make a difference in the life of other food allergy families. Our food allergy journey is far from over, but it is truly a success story.
Are you or someone you love impacted by a food allergy? Improve your quality of life and unlock a better future with Latitude Food Allergy Care. Latitude offers comprehensive food allergy care including diagnosis, treatment, and prevention, for babies, children, and adults. Contact us today to schedule a no-obligation conversation with one of our Patient Care Coordinators.