Many food allergy families have their own version of the "Mashed Potato Incident" that Kim Yates, Latitude Food Allergy Care CEO and Founder, shares in this perennial NPR article. In that story, she shares about an unintentional mistake at Thanksgiving, before her daughter Tessa was treated with oral immunotherapy (OIT) for her multiple food allergies. Even when you've worked so hard to keep a special meal or party safe for a child with food allergies, the best plans can go awry. And when things go right and everyone is safe, stress and conflict can still interfere with the planned fun. 
While treatment with OIT, and even the clarity from food allergy testing, can be a long-term solution to help relieve stress around all food events, this holiday season may still bring short-term challenges. We've shared tips to help families prepare for challenging situations around food during the holidays — either while traveling, staying at others' homes, or parties. Another helpful way to ensure that everyone can enjoy the holidays is to shift the focus from food to other types of fun and connection. 
We asked our community for ideas of non-food holiday traditions that bring warmth and delight to the dark and cold days of winter. Whether you're navigating food allergies yourself or simply looking to embrace new ways to celebrate, our guide to non-food holiday traditions is here to inspire a joyful, inclusive holiday season for all.
Holiday Crafts and Activities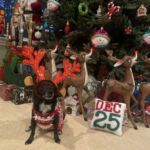 Despite the ease of ordering decorations and gifts with the click of a button, there is nothing quite like homemade. Not only do handmade crafts add a personal touch to your holiday décor and gifts, but they also serve as a wonderful way to involve children in the celebrations, letting their creativity shine. Arts and crafts are a delightful way for families and friends to come together, creating memories and keepsakes that last far longer than any festive meal. From DIY decorations to imaginative games, these activities are not just allergy-friendly, they're an opportunity for everyone, regardless of dietary restrictions, to engage in the holiday spirit.
Decorating the house for the holidays

One of the most cherished holiday activities for many families is crafting homemade decorations. These can range from simple paper snowflakes to more intricate projects like handmade wreaths or festive garlands. You can also use the decorations you already have in a new way — like filling a glass vase with dreidels collected over the years, or framing a special Christmas card. Get creative! 

Writing cards to friends and family While cards are most commonly associated with Christmas, there is no reason you can't send out Hannukah, Diwali, Kwanzaa, or New Year's cards. Keep it simple by signing your name to a purchased card, or go all out and make each one a handmade work of art. Many families find this a great reason to take updated family photos too — all activities that aren't food-centric. 
Knitting or crochet hats to donate Are you looking for a unique way to give back this holiday season? Here's one you can do without even leaving your house. You can sew, knit, or crochet hats for those in need and donate them through organizations like NEGU. Everyone from kids through grandparents can get involved!
Pottery Painting Have you ever been to a pottery painting studio? They provide all the materials and then fire your completed object. Many of them have ornaments and other holiday or seasonal options. Painting together is a fun activity with out of town guests, and these items can also make great customized gifts.
Connecting with Family and Friends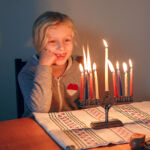 There are so many ways to nurture the relationships that are important to you — without food at the center of the plans. Here are other ideas our community members shared:

Religious services

For many families, the winter holidays are deeply spiritual and religious. Coming together and connecting under shared history and tradition at Mass or other formal services is a non-food tradition that many families find very meaningful. 

Lighting candles

Several traditions include lighting candles during this time of year. Push back some of the dark and cold and enjoy the warmth of this tradition. And use this time to reflect on everything you are thankful for. How and when you light candles will depend on your tradition, but they are all beautiful. 

Playing games with family

One thing that kept coming up in our conversations about this topic was games! All kinds of games. Board games, card games, silly party games. Games allow for a little friendly competition, teaching the next generation, and a lot of laughter — without food. 

Watching holiday movies

Streaming services mean that all our favorite movies, and a bunch of new ones are probably available somewhere. Ask your parents or grandparents if they have favorite holiday movies and watch those together.  

Listening or singing holiday music

What holiday would be complete without music? Whether your school has a holiday concert, your neighborhood has carolers, or you dial into the Hanukkah music channel on satellite radio, music can be unifying and shifts the focus from food. 
Out and About During the Holidays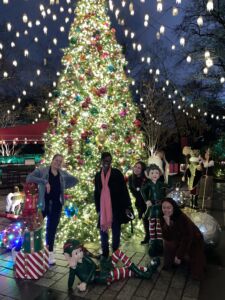 Comfy evenings around games or a fireplace, with matching holiday PJs, are fun, but building traditions around outings and events are great too. 
Shopping Trips

Planning outings with individual family members or good friends are a tradition for many families. One community member travels to New York from California each year for a special shopping trip with her mom and sister that includes a Broadway Show and seeing the Christmas tree in Rockefeller Center. It is a unique time for them to connect. 

Skating, Sledding, and Skiing

No list of non-food holiday activities would be complete without outside winter activities that make the most of cold weather and snow (even in California!). A trip to a snowy slope or ice skating rink are great ways to make the most of the cold weather, bring together friends and family, and can ease the stress that holiday baking, brunches and buffets often bring for food allergy families. 

Holiday Light Tour

Driving around to look at holiday lights takes the holiday decorating to a whole new level. Some zoos or ballparks create seasonal light shows that are open for special evening hours. Search for what is in your area to see the professional decorations and the better-than-professional Clark Griswold-like displays. Perfect for combining with singing some holiday tunes as you drive along. 

The Family That Runs Together…

Many cities have a 5k race (or longer) that are run/walk events for all ages. Turkey Trot races are popular in towns across the country, but look for other holiday themed events in your area like an Ugly Sweater race, or Holiday Hustle. 
What Are Your Favorite Traditions? 
With some planning, you can navigate around food allergies and enjoy the holiday season. But what if you could really take control of the food allergies impacting your family? We've helped thousands of patients eat more freely and live life with less worry — not just during the holidays, but throughout the year. Give yourself the gift of peace of mind this holiday season and reach out to Latitude for updated food allergy testing and treatment options. 
Get fast access to food allergy testing and advanced treatment options. Learn more.