Our team is excited to use the hashtag #FearFreeHalloween this season, because we believe that every family should be able to enjoy this spooky holiday by being scared in all the fun ways, without the fear of an allergic reaction. 
After years of trick-or-treating with our own kids and experiences from our patients, here are some of our tips for creating your own fear-free Halloween. 
Create Food Allergy Safety Rules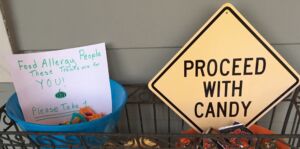 For many kids this may be their first Halloween out trick-or-treating, or the first one in a while due to COVID restrictions. That means it is a great time to introduce safety rules to your child. Just like holding hands when crossing the street or putting on a seat belt, repetition will help your child remember. You can customize these to fit your own family and circumstances. 
Don't eat any candy until you get home.

Out in the dark, it is easy to misread a label. Costumes, lighting, and running fast may make it harder to notice a reaction immediately. The best thing is to check all candy at home before any is eaten. 

Choose costumes that show the face.

Masks or face paint can make it difficult to see if your child is having a reaction to something. It is best, especially for younger children, to choose a costume that leaves their face fully exposed. 

Bring flashlights.

Having a strong flashlight can help you get a good view of your child if you have any concerns. 

Don't assume all versions of a familiar candy are safe.

Did you know that some candies have different ingredients for their fun size and their full sized versions? And fun size versions don't always have ingredients listed on the package. Take the time to check each candy, even if it has been safe in the past. 

Ask about that Teal Pumpkin. The Teal Pumpkin Project® is a campaign by Food Allergy Research and Education (FARE) to raise awareness of food allergies and to create a safer, more inclusive Halloween for all trick-or-treaters by making non-food treats available. But with any successful movement, some people put out Teal Pumpkins, not realizing the original intent. You may also spot blue pumpkins for autism awareness that are not necessarily safe for food allergies. While a Teal Pumpkin is an important sign of support — and we hope you'll strike up a conversation with other food allergy families — use the same awareness trick-or-treating at a house with a Teal Pumpkin that you would at other homes. 
Communicate with other parents.

If you are going trick-or-treating with other families who don't have food allergies, make sure they understand what cross contamination can mean for your child. See if they are willing to also wait to eat candy so that sticky fingers don't pass something along unintentionally. 

Bring your Epinephrine. Add your epinephrine injectors to your list of items to bring along. Always bring two!
Make a Plan for the Candy
Candy that your child can't eat after all their work trick-or-treating doesn't have to be a bummer. Instead, make it an added part of the fun!
Have a Switch Witch that can trade out candy for safe versions, or for non-food treats. 

Give candy to military personnel with

Treats for Troops

or

Operation Gratitude

.

Call your local dentist to see if they have a candy trade program.

Contact your local

Ronald McDonald House

to see if they accept candy donations.
Not only will the candy go to good use, but your child will know they are doing something good that is helping others. 
Consider OIT as a Long Term Solution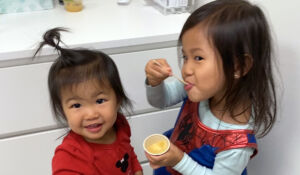 If you are ready for a longer term solution to holidays like Halloween, consider if oral immunotherapy (OIT) might be a good fit for you and your family. 
OIT is a process that regularly exposes the patient to increasing amounts of the foods they are allergic to, with the goal of desensitizing the body and protecting against anaphylaxis secondary to accidental exposures. By building up your child's tolerance, you will be able to enjoy things like trick-or-treating with the peace of mind that comes with treatment. Now that's a way to have a #FearFreeHalloween! 
Additional Halloween Food Allergy Resources
Are you or someone you love impacted by a food allergy? Improve your quality of life and unlock a better future with Latitude Food Allergy Care. Latitude offers comprehensive food allergy care including diagnosis, treatment, and prevention, for babies, children, and adults. Contact us today to schedule a no-obligation conversation with one of our Patient Care Coordinators.