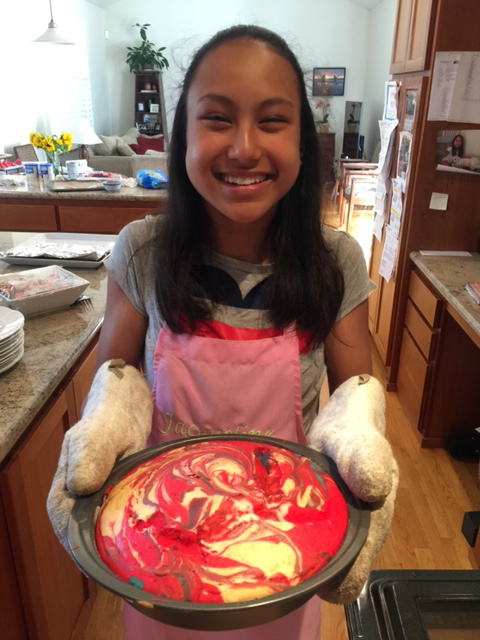 1. Why did you initially decide to come to Latitude?
My mother first heard about Latitude from Julie Bitler, one of the co-founders. She and Julie initially met many years ago when my older brother and Julie's daughter were in preschool together. They both had kids with food allergies and they bonded over shared experiences with food allergies.
I previously participated in a clinical trial at the Sean N. Parker Center for Allergy and Asthma Research at Stanford University for multi allergen oral immunotherapy with Xolair, and was treated for dairy, egg, cashews and walnuts. After that experience, I decided to evaluate all of my food allergies at Latitude, because I wanted a wider variety of foods to eat from. Since beginning my care at Latitude, I have already passed oral food challenges for baked egg and baked milk. I still have a few more food challenges to do for peanut, hazelnut, macadamia nut, scrambled egg, uncooked milk (I want to eat pizza!) and then we will decide if I might need to go through another stage of oral immunotherapy for additional foods.
2. What has your experience at Latitude been like?
Latitude is great. I love it. It feels homey and comfortable. Everyone is super nice and it is great. I've been able to feel very comfortable there during my oral food challenges.
3. How have your food challenges at Latitude impacted your family?
I used to make allergy-friendly baked goods just for myself. Now that I can eat baked egg and baked milk, I'm now able to share baked goods that I make. I can eat real pastries and brownies and taste the real thing!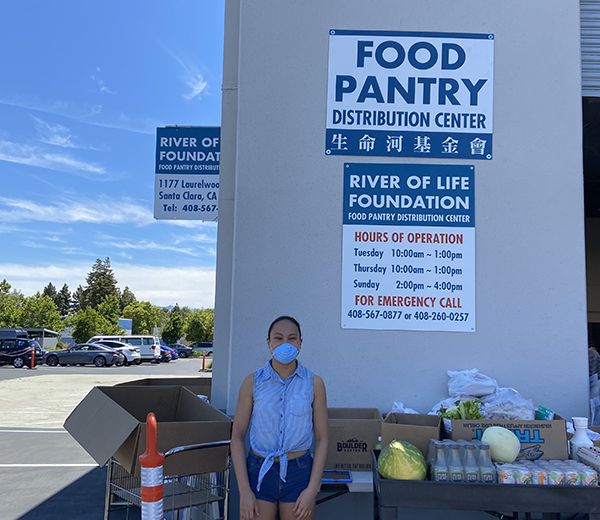 4. Can you share your unique experience volunteering with the FARE Teen Advisory Group and how you are passionate about helping other food allergy families?
In February, I applied to be in the FARE Teen advisory group — a group of teens around the country working on projects to raise awareness of food allergies and to give resources to help people with food allergies. I'm participating in six different projects this year. For example, I'm part of the initiative to secure safe food. I'm working to increase accessibility of food allergy options in restaurants, school cafeterias and food pantries. Our team is only 10 people, but so far we've tapped into food pantries in CA, NY, MA and NJ to help this initiative. Locally I've been donating food-allergy-friendly options to the Milpitas Food Pantry, Ecumenical Hunger Program, Downtown Streets Team, Lifemoves and The River of Life Foundation located mainly in the South Bay.
When I first contacted the food pantries, they had a huge percent of their population with food allergies or dietary restrictions. We created a long list of food brands that have products that are good for people with allergies or dietary restrictions. We contacted 300 food companies and asked if they were willing to donate products. Many are out of inventory right now, but we did get 30 brands that said yes so far. Some of the brands are Josie's Gluten Free Mixes, Red Plate Food, HomeFree Treats, Sunbutter (they were particularly generous), Pretzel Pete, Toufayan, GoMacro, Follow Your Heart, Mom's Place Gluten-Free, Primal Kitchen, Fun for All Foods, Lesser Evil, Katz Gluten Free, Rebecca's Nut Free, Abe's Vegan Muffins, Flax4Life, Rhythm Superfoods, Somersaults, and Rule Breaker Snacks. Daiya, Hope and Sesame, Tolerant Foods, and Mozaics also gave us coupons to use. I am always looking for new brands to help donate to these food pantries.
We started this project specifically during COVID because food options are limited, especially for those with food allergies. Food is either out of stock or people have financial adversity to buy food, so I wanted help out.
We are also raising money on a GoFund Me for our initiative "Securing Safe Foods" to become an official non-profit. One food company, Kate's Safe and Sweet, has generously committed to donate a part of their sales to our GoFundMe. And we plan to partner with other organizations like Allergy Safe Card to make menus more accessible and friendly for food allergies. And we hope to convert our projects to become more long term. I am partnering with teenagers from around the country to make an impact nationally.
Jacqueline shares more about her involvement with FARE and supporting other food allergy families in the podcast from the Passion Project. She's written about hidden allergens and other food allergy topics on the website Food Allergic Teens.